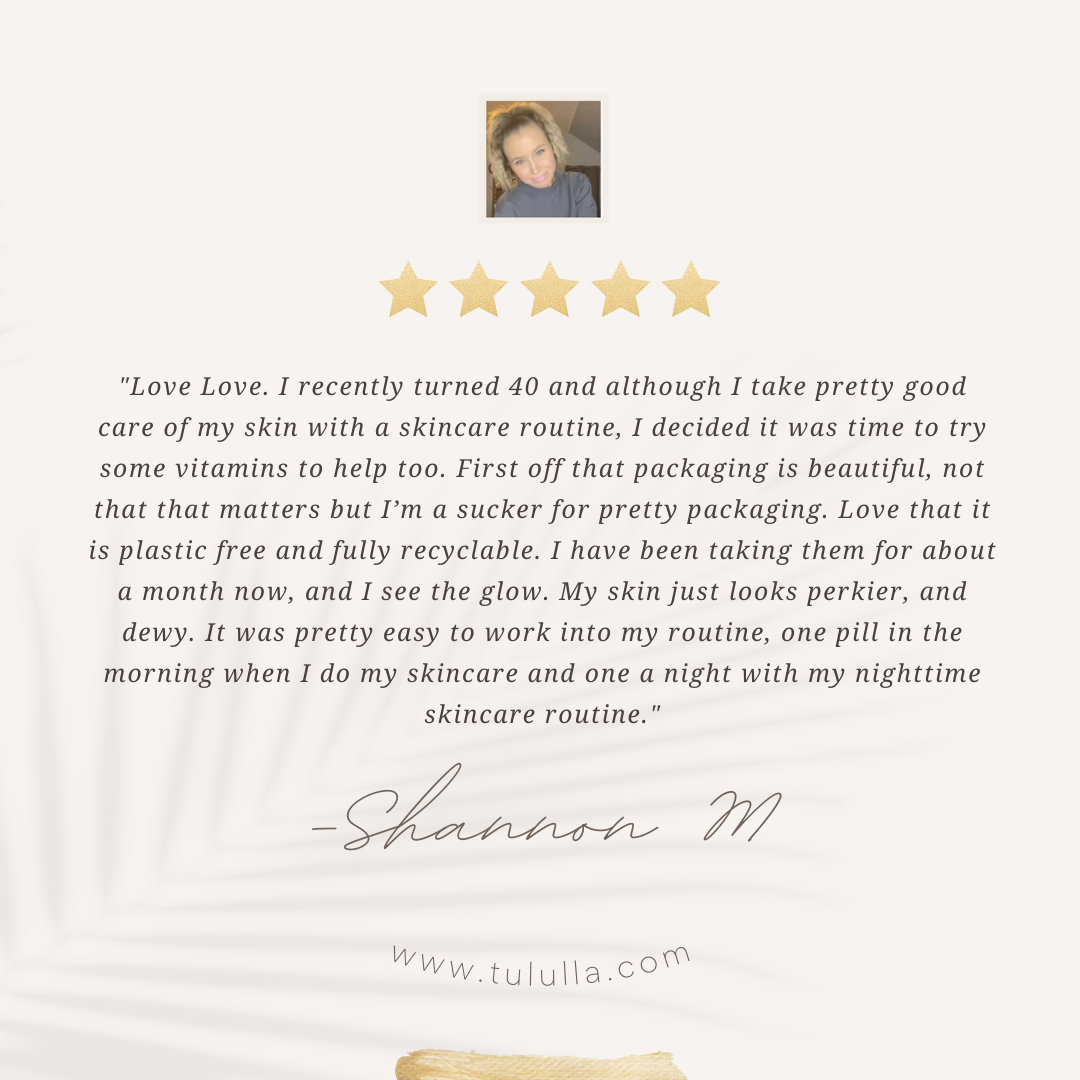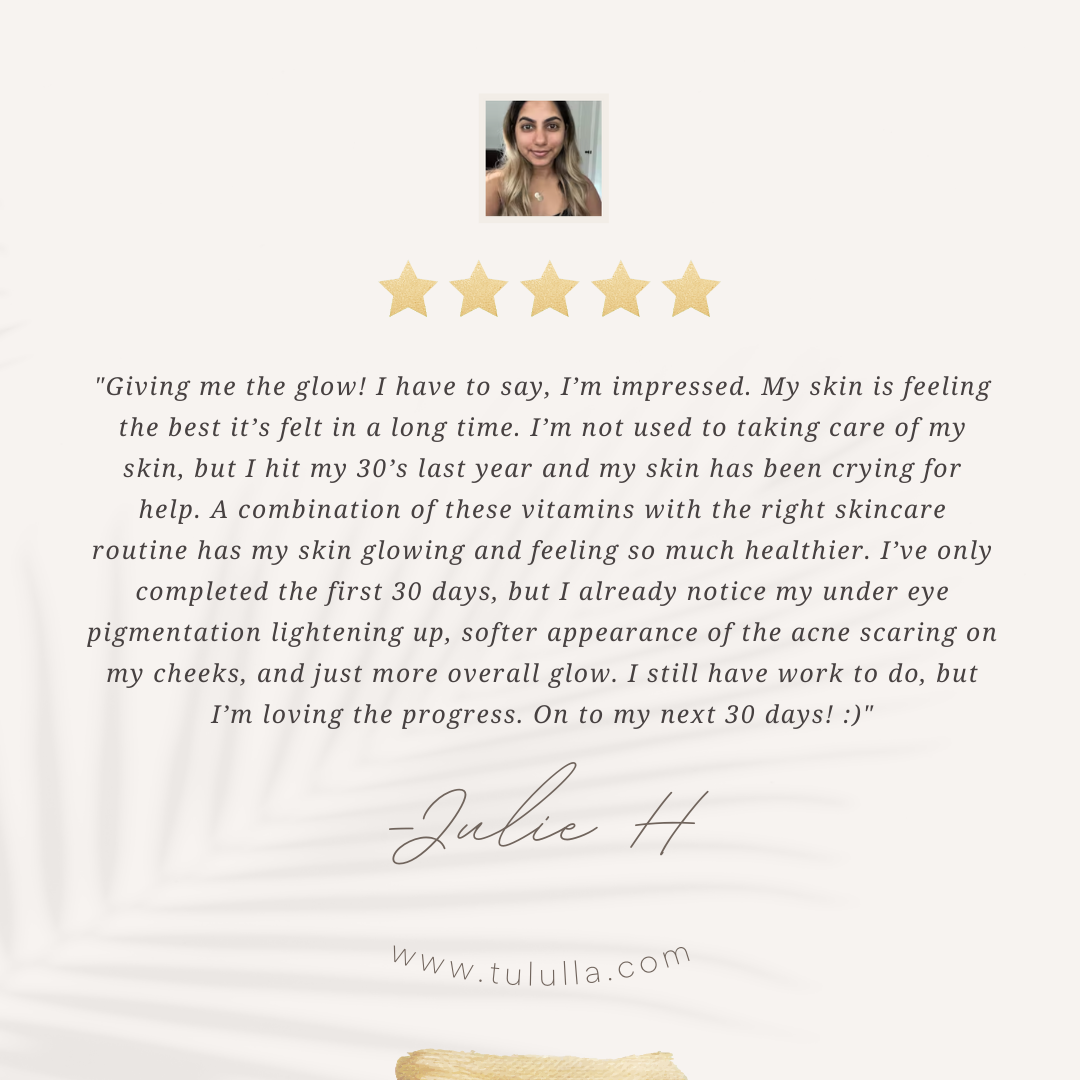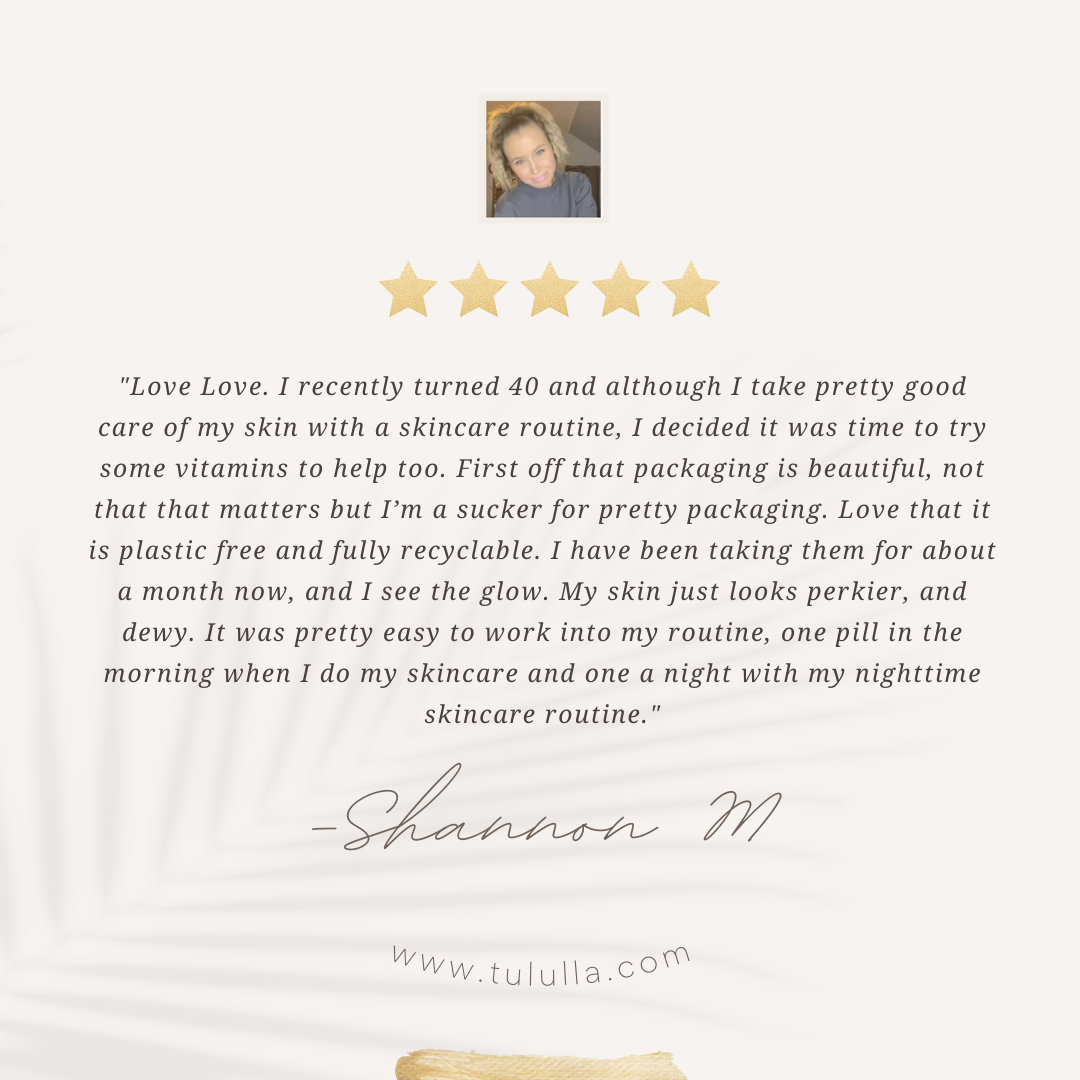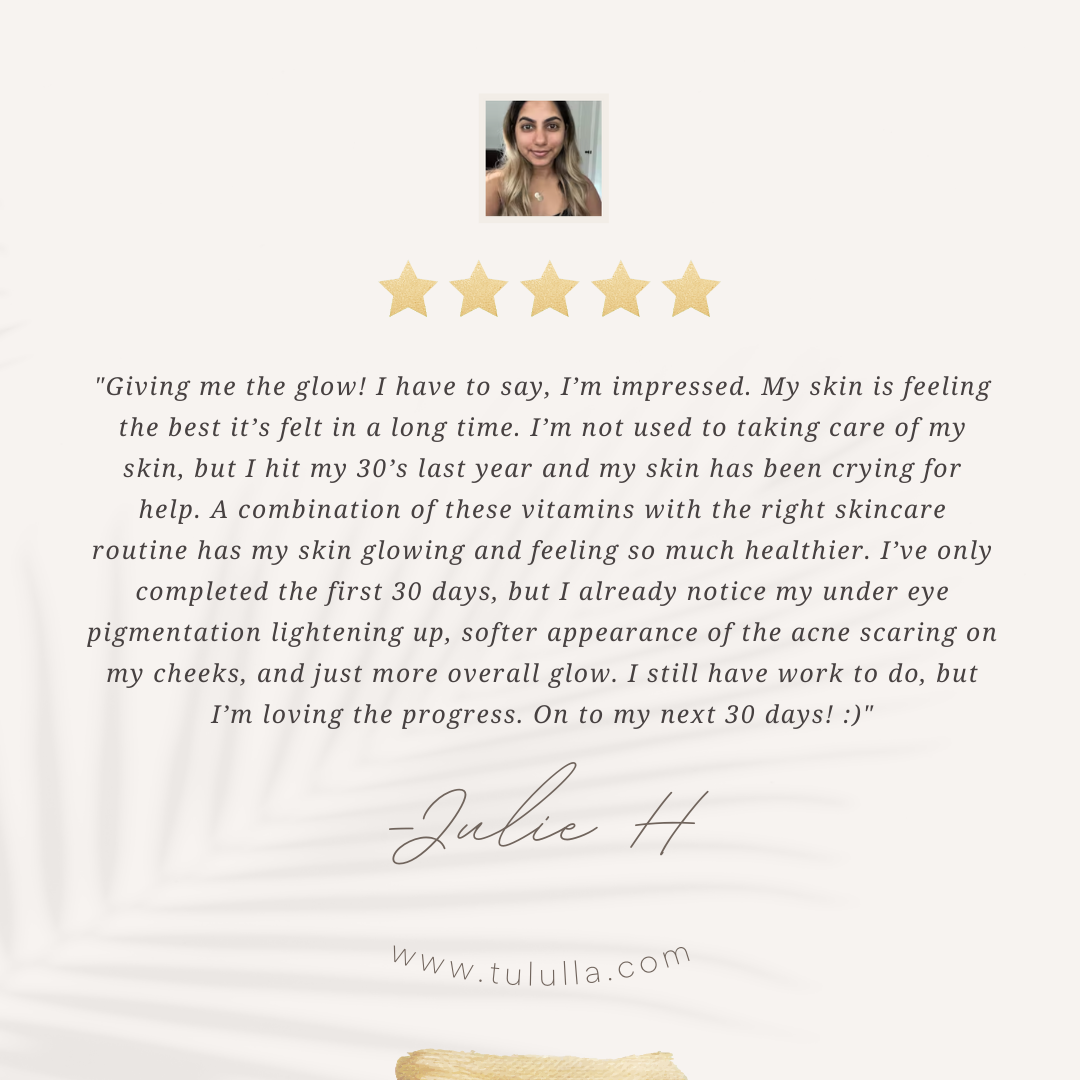 ageless skin
VITAMINS
Reverse signs of early aging.
Introducing the best "inside out" skincare solution to revive dull skin and restore your inner glow. Tululla ageless skin VITAMINS is your all-in-one anti-aging supplement formulated with the latest scientifically proven ingredients including resveratrol, co-enzyme Q10 and hyaluronic acid, plus a full range of skin-loving vitamins which all work together to replenish, hydrate and protect your skin.
Plump, hydrate & boost collagen

Smooth 

fine lines and wrinkles

Reduce age spots and pigmentation

Calm redness, acne and inflammation

Replenish lost moisture and hydration
advanced anti-aging
The first of it's kind on the market

Just like a good skincare routine requires dedication, so does your wellness routine. Would you skip washing off make up off before bed? Then don't skip your skin vitamins. Why? Our ageless skin VITAMINS are designed to deliver the right combination of ingredients where your skin needs it most.

Packed with the latest scientific anti-aging nutrients such as Resveratrol, co-enzyme Q10, fisetin, hyaluronic acid, vitamin C, pomegranate extract and more.

Give your skin a defense mechanism to combat environmental factors and lifestyle choice that directly impact your skin.
reduce signs of early aging
Tululla ageless skin VITAMINS combines the power of nutrient-rich ingredients with cutting-edge science for a skincare breakthrough that:
Plump, hydrate and boost collagen
Smooth fine lines
and wrinkles
Reduce age spots and pigmentation
Calm redness, acne
and inflammation
key ingredients
return to radiance and enjoy healthy, glowing skin
real people. real inspiration
Tululla conducted a 3-month glow trial to show you the difference a clean beauty supplement can make.
Gluten free
Dairy free
Sugar free
No artificial flavors & sweeteners
No chemical fillers
No preservatives
other products you may like
beauty infused COLLAGEN
Your all-in-one delicious beauty-nourishing drink mix packed with an infusion of natural nutrients & pure hydrolyzed collagen.
LEARN MORE
radiant hair VITAMINS
Grow longer, stronger and healthier hair with a supercharged, plant-based and nutrient-rich formula.
LEARN MORE
AMAZING
I've been using the ageless skin vitamins for a few months now, and the difference in my skin is incredible! Fewer breakouts, areas of hyperpigmentation have faded significantly, and my skin has a glow to it. I've never had the confidence to go out in public without a full face of makeup, but now I feel like I can actually show off my skin.
Ageless Skin Vitamins
I have been using this amazing product daily together with the the Beauty Infused Collagen ~ namely "The Skin Love Bundle" for a few months now and have experienced the most remarkable results and received many compliments, like "your skin is glowing" and "your skins is looking so good, what are you doing?".
Of course it gives me great joy to share the good news about this wonderful company and their incredible products.
The skin vitamin that has given me the skin of my dreams!!
"I have watched my blemishes disappear, my skin has a glow to it, I can see a drastic change, fine lines have smoothed out and the bags under my eyes have finally faded and NOTHING was getting rid of those! Thank you Tululla Ageless Skin Vitamins, I do love thee!!
Vibrant Results!
I have been loving these Ageless Skin Vitamins! They are so easy to incorporate into my morning routine, and I can see the overall improvement in my skin tone. It truly does give my skin a more vibrant look. My skin looks and feels a lot more hydrated in my after photos.
Love Love
I recently turned 40 and although I take pretty good care of my skin with a skincare routine, I decided it was time to try some vitamins to help too.
First off that packaging is beautiful, not that that matters but I'm a sucker for pretty packaging. Love that it is plastic free and fully recyclable.
I have been taking them for about a month now, and I see the glow. My skin just looks perkier, and dewy.
It was pretty easy to work into my routine, one pill in the morning when I do my skincare and one a night with my nighttime skincare routine.
NEVER MISS A THING
sign up today!
NEVER MISS A THING
sign up today!